LIVE MUSIC THIS WEEK
365 Days/Year
( blues schedules are always subject to change... )
Saturday 5/25
Sunday 5/26
Monday 5/27
Tuesday 5/28
Wednesday 5/29
Friday 5/31
UPCOMING FESTIVALS AND EVENTS
WHERE TO EAT
Yazoo Pass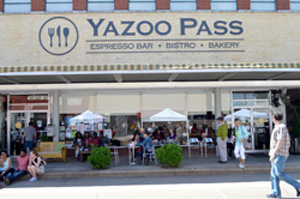 Monday-Saturday 7:00 AM-9:00 PM A cup of coffee with class In downtown Clarksdale, MS enjoy a cup of coffee and a fresh baked pastry while relaxing in the cozy atmosphere of Yazoo Pass. The espresso bar and bistro serves up fresh ingredients at this welcoming breakfast, lunch and dinner spot. The warm colors and clean aesthetic provide a classy location for a breakfast meeting, lunch group, or coffee chat session in the booths, couch area, or at the community table- or stay a while and enjoy the complimentary wireless internet.
×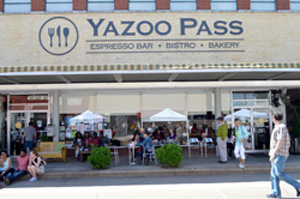 207 Yazoo Avenue
Clarksdale, MS 38614
more dining...
Casual Dining
Cafes & Bistros
Fast Food Restaurants
Other Dining Choices
WHERE TO STAY
The Travelers Hotel
Travelers Hotel is a new boutique, 20-room hotel in downtown Clarksdale. The building itself has been thoughtfully restored -- rooms are spacious and comfortable, and an evolving collection of works from local and internationally known artists is featured throughout the space. The hotel will host year-round cultural events; its lobby is open to anyone seeking a quiet place to work, gather, teach, learn, or just be. All are welcome. The downtown revitalization nonprofit Coahoma Collective led the hotel development efforts, as part of its mission to catalyze arts-driven, community inclusive revitalization in downtown Clarksdale.
https://www.stayattravelers.com
×
212 Third Street
Clarksdale,MS 38614
662-483-0693
more lodging...
Short Term Rentals
Inns & B&Bs
Hotels & Motels